Happy What I Ate Wednesday friends!
Breakfast:
I had a chocolate protein smoothie on my way out the door this morning.
This was a new smoothie for me, and it is my new favorite!  I used my new Skoop B-Strong protein along with chocolate Skoop A game.  It was delicious. (affiliate link)
I love that the Skoop protein is rice and pea based.  It makes it a complete protein, and it mixes so smoothly!
Anywho, I was eating on my way out the door because I was off to Orange Theory to meet Clare!
It was a fun workout, but much more fun because I had a friend with me.  🙂  Excuse our sweaty selves.
Lunch:
Leftover Sweet potato, Lentil, Apple and Zucchini Hot Salad. Again…
I told you all last week this is my favorite meal right now!
My friend Kelly and I caught up over a picnic lunch.  We are red tinted because we were under a red umbrella.
Snack:
Banana with almond butter.  No picture.  I was eating and feeding the baby–that my friends is a feat!
Dinner:
We had a new to me fish- Rainbow Trout!  I pan seared it with olive oil and balsamic vinegar per Lindsay's advice.  I'm loving Sizzlefish!  They have introduced me to so many new fish!!
Snack:
Big bowl of Power O's with almond milk and almond butter.
I worked up an appetite at Orange Theory!!  I'm telling you… they kick your tail there!  They really push you to work hard, but make it doable for everyone. I really like that.
Make sure you head over to Jenn's for more good food!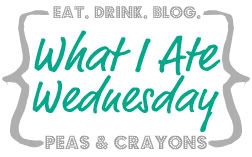 What is the best thing you have eaten lately?
Have you ever tried Orange Theory Fitness?
Do you have a bigger appetite on days you workout?