Is is cool where you are??
It has been chilly here!  In fact, I have had to put on a jacket in the morning and evenings it is so cool out!  Yesterday, one of the local meteorologists tweeted that we are having a record breaking cold snap for July here in Louisville.
I love summer.  I crave the heat and the sun.  Right now, this feels like fall… bring back summer!
Breakfast:
Protein Green Smoothie… which I immediately regretted… too cold!  I won't make that mistake again.  I immediately jumped into the shower!  lol!
Lunch:
Quinoa Power Bowl with an egg on top.
The egg makes it so much better!
After lunch, my dear friend Cassie stopped by to say goodbye.  She and her sweet family is moving to South Carolina.  She was one of my very first friends up here, and I honestly don't know what I'm going to do with her gone.
It hadn't hit me yet that they were really moving until yesterday.  Miss you Cassie!
Snack:
Paleo Bread toast with Justin's Hazelnut Butter.  Best snack ever.  Plus, it was good for the soul.
Plus, a grape Zevia.  I'm addicted.  I love the strawberry too, but I can't find it anywhere!
Dinner:
Tarka Dhal.  This was my second attempt at my new recipe.
I can't wait to share it soon!
Baby D wanted me to share his food too.  He is now eating sweet potatoes!
He doesn't like the texture of real food so we are taking it slow on introducing new things.
Have a great What I Ate Wednesday friends!  Make sure you head over to Jenn's for more good food!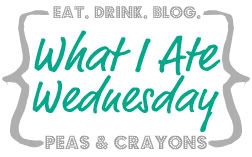 What is the best thing you have eaten lately?
Has anyone else lost the summer heat?