Just looking at these pictures makes me hungry!
Honestly, it feels really good to be home and to be eating home cooked food again.  Not that my eats weren't delicious, but my belly just feels better when I'm eating home cooked food.  Anyone else feel that way?
Charleston had some amazing food though!  I was amazed at how many places were willing to accommodate my gluten and dairy allergies.
Breakfasts and lunches were eaten in our hotel room.
They consisted of fruit with nut butter, cereal, PB sandwiches, hummus and carrots, and leftovers.
Nothing too exciting.  😉
Dinner was where it was at!
Sunday night was Father's Day so I treated Luvy to a dinner of his choice.
He picked Fleet Landing, and it was to die for!
This was the only night that we didn't share our meals.  He got shrimp and grits, and I got salmon with veggies.
Monday night might have been my favorite place.
It is a smaller place that is locally owned…. just my kind of place!  The pictures are dark… it is that romantic lighting.  😉
Wednesday was yet another local spot:
They were so sweet here.  Luvy and I both had salmon salads, but I only got a (blurry) picture of mine because Baby D had a melt down.
We had to move outside so to help calm him and so not to bother everyone in the restaurant.  He's cute, but when he's mad…. he's MAD!
Our last night, we ate at Sesame Burgers and Beer.
Everything is all natural, hormone free, made in store, and as local as possible!
We got 2 beef sliders and one black bean slider along with the Santa Fe Mahi Tacos.  So good!!!
Louisville is an amazing place to eat, but Charleston held its own!
I love finding local restaurants to eat at when I travel.  I feel like it gives you a better feel for the city you are in.
I can't wait to share more about our trip soon!!
Happy What I Ate Wednesday friends!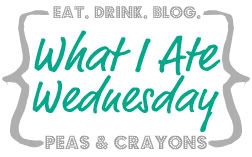 Thanks Jenn for the link up!
What is the best thing you have eaten lately?
Do you like to find local restaurants when you travel?