I'm so excited the week is half way over.  I'm still struggling… need. more. sleep!
Today I thought I would share with you all how I travel.  I could show you my countless pictures of Blend food, but we will save that for the recap. 🙂  Coming soon.. promise.
I would have my recaps up but there is something called a day job that has been keeping me away.  Y'all know how that can be.  Right?
Anywho, because I'm gluten and dairy free it can be a wee bit difficult to eat in most airports.  Since I was flying out of Louisville into Midway in Chicago, I knew there wouldn't be many options for eating at the airport.  My solution… take food!
For breakfast, I made a double batch of my Carob Coconut Muffin and topped it with nut butter and fruit.  Since I left at 4am, I wasn't too hungry until later.
When I got to Louisville airport, I immediately went to Starbucks and ordered a hot green tea.
The tea bags are so strong that I got extra hot water on my flight and refilled my tea!  I got my money's worth out of that for sure!
At Midway, I ate my breakfast along with a banana.
For some reason when I travel, I lose my appetite.  I wasn't hungry for lunch until 1pmEST, which was when I landed in Salt Lake City.  Perfect timing.
I had packed leftover Quinoa Salad, a boiled egg, chopped veggies, hummus, and fruit.
Plus, I knew that we had snacks at Blend for when we got there!
On the way back from Blend, I had already eaten a HUGE breakfast from Chobani.  They always outdo themselves.
My flight wasn't until 4pmMST or 6pm here, which is dinner time.  I snacked before we left the hotel on a Vega bar thanks to Heather.
On the way to the airport, Candice took Meg and me to Whole Foods to get the salad bar.
Hit. The. Spot!
All my toppings fell to the bottom though…. don't you hate when that happens??
It fit perfectly into my backpack.  I'll remember this from now on!
At Midway, my flight was delayed home.  Good thing I had more snacks.
I had veggies from Lindsay with hummus and another Vega bar.  I stinking love Vega!
I also dug out a banana and my Justin's Nut Butter from my Kona Kase.  Perfect right?
For dessert, I had Lindsay's Healthy Bites in Mint Chocolate Chip.  To. Die. For.
I will be getting more for sure!
Happy What I Ate Wednesday friends!  Make sure you head over to Jenn's for more good food!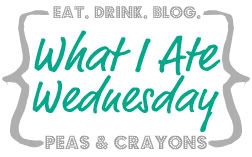 How do you eat when you travel?
What is your favorite travel snack or meal?
What good things have you been eating lately?