Happy What I Ate Wednesday friends!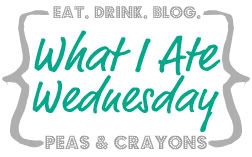 Do y'all ever have days when you are hangry? 
Hangry = hungry and angry 
Yesterday was one of those days for me.  I would eat… and then feel like I was about to chew my arm off I was so hangry.
Plus, since I haven't slept through the night since Baby Delight was born, I am pretty sure I am hungry all the time anyways.
Breakfast 1:
Banana and Nuttzo Peanut Free 
Y'all…. I DIE over this Nuttzo!
Breakfast 2:
I wanted something warm with my coffee.  I had the last of my Purely Elizabeth oats mixed with coconut flour, fruit, and granola.
Lunch: 
Thai Style Stir Fry with leftover salmon
Snack:
Fruit, granola, and Growing Naturals protein powder mixed with coconut milk.  Plus, a cutie.  Don't know why this sounded good, but it did.
Dinner:
Kushari with tahini.  To die for!
Snack:
Breeze Bar– quick and delicious!
That doesn't include the many scoops of Nuttzo I went in for.  😉
Make sure to head over to Jenn's for more great eats!
What is the best thing you have eaten lately?
Do you get hangry?
What helps you when you are hangry and nothing fills you up?