Happy What I Ate Wednesday!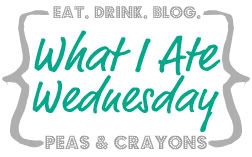 I'm so excited to share my Cincinnati eats with you all.  As I told you all Monday, I'm having to make it a separate post otherwise you all would still be reading
Monday's post
!
Breakfast:
We went to First Watch since it has a gluten free menu!
His:
Egg scramble over toast, potatoes (I ate half!), and fruit.
Hers:
Egg white omelet with peppers, mushrooms, onion, and tomatoes topped with avocado and salsa, fruit, and half of Luvy's potatoes.
Luvy and I still want to find a local spot for breakfast.
Lunch: 
We always eat Chipotle for lunch.  Plus, it is right next to the outlets!
Tip:  Always ask for guac on the side… they give you more!  🙂
Dinner:
Our favorite dinner spot in Cincinnati is Green Papaya.  We eat there every time we go to Cinci.
We always share the Classic Hot Fish with steamed salmon and the Green Curry.
Next visit, I'm taking Holly there.  I still can't believe she hasn't been there before!
Make sure you all head over to Jenn's to catch up on what everyone else in the blog world is eating!
What is your favorite meal to eat out? I'm tied for breakfast and dinner.
What is the best thing you have eaten lately?