Happy What I Ate Wednesday friends!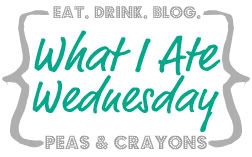 This week, I'm a lot more upbeat about my meals.  I'm over the angry part of food allergies, and now I've come to the acceptance part.
I've been getting excited about being in the kitchen again!
Breakfast:
Green Smoothie with Blueberry Banana Bread
Picture recycled from Saturday… I forgot yesterday morning!
Lunch: 
Leftovers- roasted sweet potato with apples, lentils, and zucchini with a balsamic vinegar, mustard, and cinnamon dressing.  So good!
Snack: 
I snacked on grapes after work while I made dinner.
Dinner:
Millet and Butternut Squash Salad with chickpeas and roasted brussels.
I need to remake that salad and repost it for you all.  The recipe needs updated and I originally posted it when only my parents and Luvy read my blog.  
Snack:
Seriously, I could eat the entire loaf of this stuff.  It is best warmed with honey, cinnamon, and a banana sliced on top!
Meals this week have actually been really good and satisfying.  Who would have thought that I would be doing so well with out eggs or nuts/ nut butter?!??  
Linz sent me some new to me websites and blogs with allergy friendly recipes, so I'm looking forward to trying some new things.
What is something great you ate lately?
What is your favorite way to eat butternut squash?