Today I'm a little down in the dumps.
I have to go back to work.  🙂  After being off since Friday, it is HARD to go back to work again.  Especially when the temperatures have been over 80 here.
I just want to go outside and play!
I feel like a little kid again begging their mom not to make them go to school after spring break.  😉
At least it's What I Ate Wednesday!!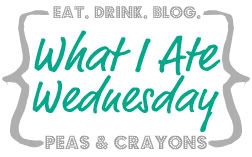 Thanks to the sweet
Jenn
for the link up!  Make sure you head over to Jenn's and see other's posts.  There is some drool worthy food on there.
Breakfast:
Creamy Rice cereal with blueberries, banana, goji berries, hemp seeds, and almond butter.
This is my favorite breakfast right now.
Lunch:
A gigantic salad.  Spinach, green leaf lettuce, artichokes, peas, sweet potatoes!, black beans, millet, raw parsnips, avocado, and my special dressing with extra spicy mustard.  🙂
Every time I have salads like this, I think of Sarah.
I'm making more dressing this weekend, so I'll actually measure it out so I can share the recipe!  🙂
Snack:
A little of this and a little of that.  I'm a huge snacker.  When I'm at home, I don't have a mindful snack.  I just snack.  A few handfuls of almonds, a banana with almond butter and granola. More granola.  And more granola.
Get the picture?
Dinner:
We had a couple of our college students over for dinner.  They didn't want their picture taken…. silly boys.  😉  I didn't snap any pictures actually.
I did make black bean burgers.  Recipe to come!
Snack:
Since we ate an earlier dinner, I wanted a good snack.  A small bowl of oats did the trick!
I'm trying to do better with the lighting in my pictures.  I'm still no Heather.  🙂
Okay, so I have a challenge for you.
It is finally spring.  This year I want to do some serious, deep Spring Cleaning.  My friend Laura and I are teaming up to do a spring cleaning series.
For the next few Fridays, we will be posting a room to or a project to tackle, and pointers on how to get it done.  Then we are all going to tackle that project!  I would love for you all to join in and show us your progress!
I hate spring cleaning.  Doesn't everyone??  This will be a fun way for us to all get it done together!  Plus, we will be doing a little each week so it doesn't get too overwhelming.  I like it that way.
What is the best thing you ate this week?
Who likes to clean?
Who wants to join in on the spring cleaning?