I feel like a weight has been lifted off of me!
Early yesterday morning, I left the house to go to downtown Louisville.
Breakfast:
I had my new favorite smoothie in tow!  Recipe to come!
It was an early morning, but I had a big appointment.
After about 45 minutes, my appointment was over… and I was celebrating.
I was off to get Baby D and head home for lunch.
Lunch:
Leftover black bean cakes from Saturday and rice and beans with veggies.  Kind of a throw together meal, but it worked!
Snack:
My last Kind bar on the go!
Dinner:
We met up with Clare and her boyfriend for dinner at Clay Oven Indian!
It was absolutely delicious.
The company was even better!  We can't wait to double date with them again soon.
Poor Baby D was throwing a fit during part of our dinner… then he crashed out hard.
I think it must be the tooth he is cutting!  He was chewing on everything like a mad man.
Good thing he is so stinking cute!  Plus, Clare was a baby whisperer.  He loves her!
(Thanks Clare for the pics!)
Snack:
I'm sure I'll have the last bit of my Love Grown Power O's tonight.  I've gone through 3 boxes in no time.  I'm a bit addicted!
They need to start selling them here in Louisville!
So… anyone curious about what I was celebrating today???
I am now a NASM Certified Personal Trainer!
For now, I am going to work with clients locally.  Eventually, I will add in online training and health coaching!  More to come on all that though.
I told you all… change is coming!  🙂
Happy What I Ate Wednesday friends!  Make sure you head over to Jenn's for more good food!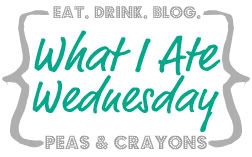 What is the best thing you have eaten lately?
Have you ever worked with a personal trainer?