Louisville is a great foodie town!
This past weekend, Katie and Sam from 50 States in a Year were here.  We got to go out and explore some of Louisville's original restaurants and coffee shops.
Breakfast:
We all made green smoothies for breakfast each morning.  Sam puts carrots and such in hers, and I'm so going to try that!  Sadly, my blender is a cheap one.  Now to decide if I want a Ninja or bite the bullet and get a Vitamix or Blendtec.  Thoughts??
Lunch: 
For lunch on Saturday we ate at my favorite… The Grape Leaf.
It never disappoints.  Baby D even loved it.  He ate some of my salmon…. kid loves salmon.
We also hit up Quills Coffee.  Louisville has some awesome coffee shops!
Dinner:
Friday night, Clare joined me, Baby D, and the girls for dinner at Ramsi's.  I haven't eaten there in a long time.
They have completely redone their menu and I was pleasantly surprised at my meal.  The salmon we perfect.  Of course, Baby D had to try it too.  However, I could have done for more "salad".  LOL.  I went home and ate a snack to fill me the rest of the way up.  Lesson learned.
At dinner, Baby D ate his dinner.
As you can see, he's a great eater!
The longer I'm in Louisville, the more I love it!
Happy What I Ate Wednesday!!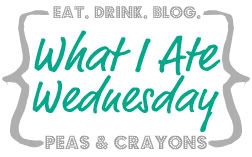 A very special thanks to Jenn for the link up.
Who wants to come visit me next?
What blender do you have?  What do you recommend?
PS… Don't forget to enter my Love Grown Holiday Giveaway!!