Happy What I Ate Wednesday!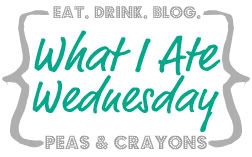 This week is a true "hump" day for me since we work Friday this week.
Who's ready for some time off at Christmas?? *raises hand*
We are trying to clean out the fridge with our eats this week so we have plenty of room for holiday stuff.
Breakfast:
I'm back to smoothies.
It's weird.  Even though it is SUPER cold out here, all my tummy wants is a smoothie.
Lunch:
Today was my work's Christmas party.  Our awesome boss took us out to eat at Sake Blue for hibachi and sushi.
They were awesome to accommodate my GF and dairy free diet!
I got salmon, vegetables, and steamed rice.
Seriously, I have an awesome boss!  She spoils us pretty rotten.
Snack:
I ate a ton of baby carrots while making dinner last night.
Dinner:
Leftover pasta and spaghetti squash with our Almost Homemade Pasta Sauce and Tera's Turkey Meatballs.
Luvy loved it.
Snack:
For the past 2 nights, Luvy and I have been drinking kombucha at night.  I think it is helping to settle my tummy before bed.
What have you been eating here lately?
Anyone else have work Christmas parties?
What's on your Christmas menu??