I love rainy days when I get to stay home.
Jammy day rocks on days like this.  At least we think so.
Don't judge… we eventually changed.
Playing and reading books is way more fun in your jammies anyway.
Breakfast:
I can't stop with the Pumpkin Buckwheat Muffin.  I have decided that the raspberries make it!
Breakfast is best in your jammies while watching Live with Kelly and Michael.  Best ever.
Lunch:
Mexican Bowl
I also can't stop my love affair with sriracha.  Sriracha and hot sauce are made for rainy days.  Right?
After lunch, the rain stopped for a bit, and the sun poked through.  It was still too wet and cold to go outside.
So, Baby D decided to help me rearrange the kitchen.  Meanwhile, I was trying to clean and straighten for a house showing.
Remind me why I got a highchair with rollers…. 😉
Snack:
I ate a banana with nut butter while feeding Baby D his carrots and avocado.  He is such a good eater!
Yet again, we got booted out before dinner for a house showing.
Fun, fun!  (Sell, baby, sell!)
Dinner:
Dinner was late.  It was after our showing, so I had already thrown these beautiful Delicata Squash Fall Salads together.  They were waiting in the fridge for us to return and gobble up!
Sure, they would have probably been better fresh, but neither of us were complaining.  I dare say this is the best salad I have ever created.  Recipe up tomorrow my friends!
Even though we were misplaced in the evening for a showing and it was rainy, we still had a great day.
We played hard, snuggled, and laughed.  That my friends is a winning day in my book.  Because, what I do matters!  Agreed?
Happy What I Ate Wednesday friends!!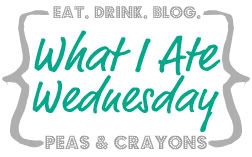 A very special thanks to Jenn for the link up.
What is your make ahead meal?
How do you do rainy days?