Like I told y'all last Wednesday, adjusting to eating with a newborn has been a trick.
It seems like when I'm sitting down to eat, he is all of a sudden hungry!  Lol!
I have found that the trick is quick meals…. and to try to eat when baby is sleeping!
(look how huge that sleep sack is!!)
1st breakfast:
Recently, every morning my first meal is an Oatworks smoothie.  They graciously sent me several bottles to try right when I got back from our trip getting Baby Delight.
Honestly, it couldn't have come at a better time!
I love it because it is vegan, gluten free, and non-GMO.  It is made from oat fiber, and has as much fiber as 2 bowls of oatmeal!  Even better, it is made with REAL ingredients!
I love it so much that Oatworks agreed to spread the love to one of you.  See the bottom of this post for a giveaway!
2nd Breakfast:
Quinoa flakes with Onnit chocolate hemp protein and walnut almond cashew butter.  To. die. for.
Lunch:
Big huge salad.  The sun came out and I was craving a fresh salad.  Plus, it's fine eaten cold in case Baby D needs food first.  😉
Snack:
I made some Chocolate Cherry Love Bites for Luvy for Valentine's Day.  They are so good that they are pretty much gone!  Plus, they are quick to grab and go!
Recipe coming tomorrow!!  Drool away!
Dinner:
Grilled tilapia, quinoa salad, and broccoli.  First we had to clear the snow off the grill!
#bringbacksummer
Snack:
To be decided… I'm thinking it will be early to bed!
Happy What I Ate Wednesday!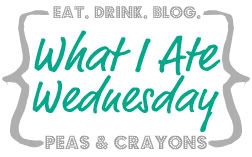 Thanks to the lovely
Jenn
for the linkup!  Make sure you head over to her blog to see all the other great eats!
Okay… now for that giveaway!
The winner will be announced next Wednesday the 19th!  Good Luck!!