This What I Ate Wednesday is a bit different.
Yesterday (or today since I am writing this on Tuesday), Baby D had a hard day.  He was already fussy and didn't sleep well the night before, but he also had his 2 month checkup.  This entailed getting his blood drawn and 2 shots.
Sweet boy was not having it the rest of the day…. so, I totally forgot to take pictures.  Plus, I think I ate myself out of house and home.  Stress= eat for me.  It kills me when he is upset!
Anywho, let's talk about something happy.  Food is happy right???  😉
The school Luvy teaches at has an extension in Nashville, and Luvy is teaching there some this semester!  So, Baby D and I went with him.
Breakfast:
Vega Protein Shake with a banana from the hotel and coffee… must have coffee!
Lunch:
I met up with my best friend Emily for lunch.  She lives there in Nashville, so her boss was so kind to let her leave for lunch to hang out with me and Baby D!
She is a hygienist like me… and her boss treated us to lunch!  How sweet right?
We went to Chipotle.  Their guac speaks to me– I always get it on the side because they give you more!  😉
After lunch, I went to see my college roommate, Stacey, and her husband, Dave.  They just had a little girl and she has been in Vanderbilt NICU since she was born.
I won't go into details for privacy sake (I didn't ask their permission) but please keep them and their little sweet pea in your prayers!
Snack:
After snuggles with Stace, it was time to go pick up daddy at work.  I had a blueberry Larabar on the drive.
I had forgotten how good those were!
Dinner:
Luvy treated me to dinner at my absolute favorite Thai restaurant and favorite place in Nashville, Thai Phooket.
We shared the Veggie Green Curry and the Salmon Massaman Curry.
I was stuffed when we left, but I just couldn't stop eating.  It is that good!
I have a few Nashville favorites that I have on my list to go to next visit.  🙂
Thanks to Jenn for the awesome link up!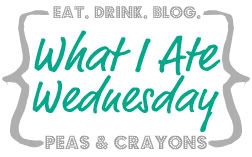 What is the best thing you have eaten lately?
Favorite on the go snack?
Favorite quick/ overnight getaway city?— my quick getaway city is tied between Nashville and Cincinnati