There is nothing better than a holiday and a long weekend to enjoy some good food.  Am I right?
Add another foodie to the party, and good food is sure to happen!
Breakfast:
My breakfasts consisted of Protein Buckwheat Bowls, smoothies, and my favorite….
Paleo Bread french toast and scrambled eggs. #winning
Lunch:
We ate out for lunches while Sarah was here.  That way we could explore more of Louisville, and let's just be honest…. it's cheaper to eat out at lunch!
Luvy and I shared the Pineapple Curry with Salmon and the Green Curry with Vegetables.
We also ate at EarthFare.  Their hot bar is only $6.99 a pound compared to Whole Foods $8.99 a pound!
When you pay by the pound every penny counts… right?
Snack:
Our afternoon snacks tended to be of the liquid source.
Quill's and Vint kept us charged up!
I think Baby D wanted some of it in his bottle.  😉
Dinner:
We had all kinds of fun dinners this weekend!
Sweet Potato, Lentil, Apple and Zucchini Hot Salad, Stir fry, and we grilled out.
Tilapia with Sarah.
Burgers with our friends Jeremy and Kassie on Memorial Day.
Snack:
At night most of my snacks involved something with Sarah's special nut butter.  It is Brazil Nut butter… and it is to die for!
I sent her home with my special No Bake Cookies… or Cow Patties as I grew up calling them.
She wants my recipe… bet y'all do too!   😉
Happy What I Ate Wednesday friends!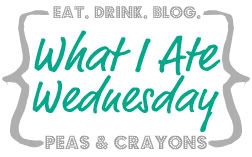 A very special thanks to Jenn for the link up.
What did you eat for Memorial Day?
Favorite thing to grill?
Best thing you have eaten lately?