Breakfast is my toughest meal of the day.  I tend to get in a rut with breakfast.
Not that there aren't amazing and delicious breakfast foods, I tend to just have the same thing day after day.  Mostly because it is convenient, but more than anything it's a time factor.
I created this delicious holiday breakfast bowl over Thanksgiving, and I have been having it 2-3 days a week since.  It is to die for, and it is like having Thanksgiving or Christmas flavors every day!
Ingredients
1/2 cup Love Grown Super Oats (or other oats)
1/4 cup pumpkin
1 cup Silk Vanilla Unsweetened Almond Milk
leftover squash, chopped (optional)
1/2 apple, chopped
1/2 banana, chopped
1/2 scoop Vega Vanilla Chai
Toppings: leftover cranberry sauce, nut butter of choice, or toasted nuts
Instructions
Put your pumpkin, oats, chopped apple, and almond milk in a pot.
Bring to a boil and cook for 3 minutes.
Stir in Vega Vanilla Chai. Fold in squash if using and banana.
Top with cranberry sauce and nut butter or nuts.
http://www.delightsanddelectables.com/holiday-breakfast-bowl/
Don't leave off the cranberry sauce… it's to die for!
It was a random "leftover" holiday breakfast, but it is absolutely delicious.
I have always loved the vanilla Vega, but the Vanilla Chai is where it's at these days!  I'm in love.
Strange but good maybe?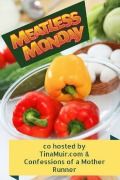 Thanks for the linkup Tina and Deborah!
Who likes Love Grown??  Come back tomorrow for a fun holiday giveaway!  🙂
Do you have any fun breakfast concoctions you like to eat?
What is the strangest breakfast you have thrown together?