Happy What I Ate Wednesday!!
I've been in a breakfast food slump for a while now.  I don't know why, but I was getting tired of my Pumpkin Smoothie and my buckwheat muffins.  Vega so graciously sent me some Vanilla Chai protein to try out, and this sparked my creative abilities!
Breakfast:
Holiday Breakfast Bowl!  Yes… that is cranberry sauce on top.  Total deliciousness.  —> (is that a real word??)
After breakfast, Baby D and I had a coffee date with a new friend of mine from church.  God has brought her into my life just at the right time!
Plus, coffee dates are my favorite.  Louisville has some really great coffee shops.
Coffee for mama, banana for baby.  I got the better end of that deal.
Lunch:
Lunch was a bit rushed and thrown together.  Seems like that is the trend here these days.  I blame the Holiday Crazy…  Still delicious though!
Dinner:
Baked Slap Ya Mama Salmon with roasted potatoes, squash, and steamed broccoli.  I'm officially out of Sizzlefish.  Santa?????  😉
That my friends, is a day of good eats!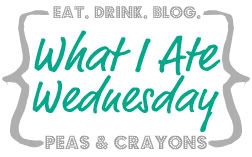 A very special thanks to Jenn for the link up.
What are some of your good eats??
What is your favorite breakfast right now?