I love food blogs.  Just check out one of my Friday Five and Favorite posts.
I can't get enough of food pictures…. they make me drool.
Plus, I love making other people's food.  It changes things up, and takes the pressure off when I have a crazy day… like yesterday was.
Breakfast:
Okay, so this one was mine… but it's so good I couldn't NOT have it.
Lunch:
Mushroom and Millet Soup from Oh She Glows.
Perfect for a rainy fall day.  Absolutely perfect.
Snack:
Seriously y'all.. I can't stop eating my Vanilla Bourbon Plantain Bread.
I made a double batch, and I only have a 1/4 of it left.  Need more plantains….
Plus, a Cream Soda as a treat post mopping.  I made myself useful during nap naptime!
Dinner:
Ashley's Butternut Squash and Apple Quinoa Salad.  I added chicken sausage and zucchini into the mix and it was delicious!
We ate it at a friend's house last night… other people's food at other people's house!  LOL.  Our house was being shown last night, so we got booted out.
Do what ya have to do though right?
Happy What I Ate Wednesday friends!!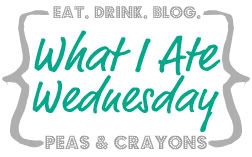 A very special thanks to Jenn for the link up.
What fall food are you loving right now?
Do you like making other people's recipes?