I love food at the holidays.  I love making dishes and eating things that you don't normally eat other times of the year.
Like cranberry sauce.  Seriously, why don't I have cranberry sauce all year???
However, I am glad to get back into my swing of things.  The holidays are a great time to celebrate and enjoy.  I don't believe in "dieting" or "restricting" during or after the holidays.  I just believe in getting back to normal.
Breakfast:
I topped it with extra Brazil Nut Butter and some Trader Joe's Pumpkin Butter.  That stuff is addicting!
Lunch: 
Leftover Tex Mex Turkey Skillet
Y'all.. this is so easy and quick!  Plus, it is one of Luvy's favorites right now!
Dinner:
Split Pea Soup with Butternut Squash
Y'all.. so good.  I'll have that recipe for you next week!  I'm full of recipes right now.  The creative juices have been flowing.
Snacks were some Plantain Bread with Brazil Nut Butter, apples, and a banana.  Everything was on the go today!
Happy What I Ate Wednesday!!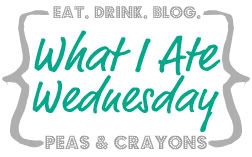 A very special thanks to Jenn for the link up.
Is anyone else craving soups and stews right now?
How do you get back to your normal after the holidays?  Just remember, it all evens out!