Yesterday was quite comical.  It was the day of "that moment when…."
Baby D woke up early for his "breakfast".
Breakfast:
That moment when you realize you no longer have time for a sit down meal…
Smoothie per usual.  Cookies n' Cream smoothie to be exact.
Hello yum.
Baby D has been quite clingy these past few days.  I think tooth number 6 is coming in.
That moment when baby cries unless being held… I mean ugly crying turns into…
That moment when mommy's lap becomes baby's playground.
I'll take it.
Lunch:
Easy peasy, and I could cook it with one hand!  Recycled pic of course because I didn't have an extra hand to take the picture.
Since Baby D rebelled his afternoon nap, he was quite vocal in letting me know his disdain of having his diaper changed.
That moment when… you are changing said diaper, have the baby's legs straight up in the air to "take care of business" when the Fedex guy comes to the door with out you noticing.  Since you are painting the baby's room, the changing table is right in the living room.  Right when he knocks on the door, you jump out of your skin, scare the baby, make the baby pee everywhere, and then he ugly cries again.
That moment when… you no longer like the Fed Ex guy.
Pretty stinking hilarious… you kinda had to be there though.
Dinner:
Leftover spaghetti and spaghetti squash with Applegate farms sausage and pasta sauce.  It got the job done.  We had to get back to painting!
Baby D had yummy white sweet potato.  He loves sweet potatoes now!  yay!
That moment when you put that sweet baby to bed and realize what a blessing it is to work so hard to be mommy all day!
I seriously couldn't imagine life without that sweet boy.
Snack:
I see a big bowl of this in my future.  Last little bit of it!
Love Grown Power O's must come to Louisville asap or it might lead to desperate measures…
I can't wait to have the baby room and bathroom painted to show you all!  Our eats have been boring lately, but we have good reason.  There is work to be done!
Have a great What I Ate Wednesday friends!  Make sure you head over to Jenn's for more good food!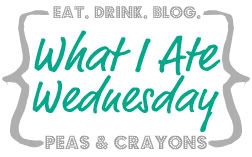 What is the best thing you have eaten lately?
What is your go- to meal when life is crazy?